When your Ready to Ride – These Arkansas Roads are calling
The Peel Ferry loop takes riders north into Missouri; east through highways carved out of limestone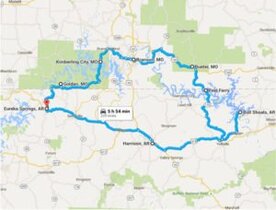 and into world-famous Branson; then further east and south into Arkansas.  There, along the banks of Bull Shoals Lake, bikes will board Peel Ferry that runs during daylight hours the year-round and is the only existing ferry that plies any Arkansas river or lake.  Serpentine highways wind past Bull Shoals southward to U.S. Highways 412 and 62 leading riders back to Eureka Springs.  This ride is approximately a 200 mile / 5 hour sojourn.
The Arkansas Dragon's Tail loop takes riders south and east of Eureka Springs through the hills-n-hollers shared with such topographic notables as the Buffalo River National Park, America's only river ever designated as a national park, and the "Arkansas Grand Canyon".  At the bottom of the
loop is the little historical community of Lurton that sits along the old wagon trail that was known as the Chisum (sic) Turnpike.  On either side coming down or going back up toward Eureka Springs, riders will be "passin' thru" Western Grove; Mt. Judea (pronounced "Judy"); Ponca and its herds of grazing elk; and Howe Hollow valley.  Total round trip is 177 miles or approximately four hours of travel time.
The third "new" loop is called The War Eagle Mill and
times out at one hour and 16 minutes with 54 miles being logged to and fro Eureka Springs.  "What makes this short loop so awesome," said one rider, "is that it leaves plenty of time to eat, shop or just relax in the rustic charm of the mill itself."  War Eagle Mill is one of America's last operating undershot, burrstone gristmills that sits over War Eagle Creek.  Here riders can watch product being made, taste some that has been baked up in the mill's Bean Palace restaurant, take plenty of product home or have it shipped.  The loop also takes riders in, around and through Hobbs State Park and Conservation Area, 12 thousand acres of pristine Arkansas woodlands.
The Goldwing/Highway 21 loop encourages riders to leave Eureka Springs early to see the sunrise
over amazing vistas like the Bluebird Hill Overlook.  As this loop continues along its 269-mile and six-hour route, it takes riders through the Buffalo River National Park and a chance to watch grazing elk near Boxley and Lost Valley.  An eagle could be spotted overhead as riders near Kingston and the "Arkansas Grand Canyon".
Curvy roads and historic bridges carry riders over the White River and Beaver Lake on the Beaver Town Bridge loop
with great views of the water.  Riders have perhaps a once in a lifetime experience as they encounter one of the true treasures of the Southern road.  The historic Beaver Bridge, best known as the "Little Golden Gate of Arkansas", was built in 1949, is 554 feet long but only 11 feet wide thereby only allowing one way at a time traffic.  This is quite a large return for a ride that is only 26 miles and 44 minutes.
The Jasper loop is another route that takes riders through the Buffalo River National Park and
across the 1930's iron truss Pruitt Bridge.  Two stops during the 150-mile/four-hour ride could be the Elk Education Center in Ponca and the Ozark Café on the town square in Jasper.
Riders are in store for a potpourri of wildlife opportunities on the Highway 103 loop.  Big cats, up close and personal, at Turpentine Creek Wildlife Refuge, and a trout hatchery and fishing stream at Roaring River State Park, just over the line in Missouri.  All of this with the added dividend of Ozark scenery is part of the 142 miles and 4 hours invested.
But the cherry on top of the Eureka Springs' loops' sundae is the internationally famous Pig Trail. 
This ride is as challenging as it is scenic.  Switchback after switchback between hairpin turns makes this ride a "must do" event when riding in Northwest Arkansas.  The Designated Scenic Highway portion of Arkansas Highway 23 is truly breathtaking.  Stops in Withrow State Park and alongside the Mulberry River allow riders to catch their breath and relax in beautiful, natural surroundings.  Many riders say that this loop is the best seven hours and 280 miles of their riding lives.
For more information about all eight of these loops designed for motorcyclists, one should go to EurekaSpringsMotorcycleRides.com.